SmartWord4TFS keeps asking for Team Explorer to be installed
I recently received a new computer and installed the latest versions of Office 2016 and SmartWord4TFS 2017 Update 2.

After the installation, I get that libraries for Team Explorer need to be installed. After a successful installation and restarting Word, the same message can be seen. Never I can get to connect to VSTS.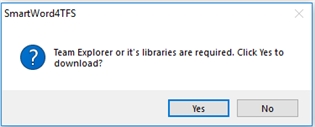 I tried this solution [http://smartoffice4tfs.answerbase.com/2218048/On-connecting-SW4TFS-to-a-Team-P
roject-I-am-always-getting-this-team-explorer-or-its-libraries-required-message
?qid=db7166b4-0b71-474c-5ddd-7c21a1d10492], but this doesn't work with this version of SmartWord4TFS, as there are no folder %AppData%\SmartOffice4TFS right after the installation.

Please advise on how to fix this issue.

Kind regards,
Frederic.
Status:
Open
Oct 31, 2018 - 11:56 AM
Installation and Licensing >&nbspSmartWord4DevOps
---
Answers
This question has not yet been answered.
Answer this question
Other Questions Needing Answers