Answers

May 17, 2019 - 04:15 AM
Hi ,

Actually the MR4DevOps UI Service is unable to run\excute in your environment and it seems that the Port 8028(if you have installed the MR in your environment) or if you are using our VE account then port 8080 is blocked or closed and therefore our MR4DevOps UI Service which is running on the port 8080 is unable to load and therefore you are getting this error.
Our MR4DevOps UI Service URL is : http://tfs4everyone.com:8080 so if you paste this same URL in your Browser and if you get the following page then it means in your environment the port 8080 is opened and now you can proceed with our application.


Currently it seems that the following page shall not render as the port 8080 is blocked but when your network administrator Either Whitelist this URL ( http://tfs4everyone.com:8080 ) OR open the port 8080 and then you shall be able to proceed.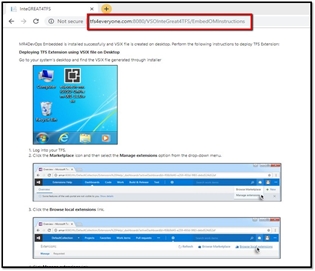 After opening the Port 8080 if the issue still doesn't get resovled then please do let us know on support@modernrequirements.com and then someone from our support team shall contact you in this regard.

Thanks,
Umair Abbasi.